Dyslexia may very well be in Mighty Joe's future. He's got a hole in his occipital lobe, the part of the brain responsible for sight and balance. In spite of the damage there, his vision is 20/20; however, his visual processing is not normal. He holds things too near to his eyes, he stands a foot from the television, he presses his face right up against mine in a way that is just a little too close.
Along this journey to discovering how Joe is going to learn, I'm gathering tools. Crossbow's Duo Window Eye Level Reading Rulers seemed like a good place to start so I asked to review them here for you, too.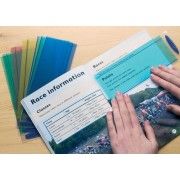 The rulers come in 10 color options: pink, celery, sky, magenta, grass, yellow, aqua, purple, orange, and jade. It's best to test them all and then settle on which color(s) you prefer. Each of the rulers has two windows: one is 1/2" wide and one is 1 1/4" wide so that you can experiment and decide the best course of action for your student. Crossbow recommends that early readers may prefer the smaller window as it allows them to focus on one line of text at a time.
As much as I am looking forward to using them with Joe, he is not my current reader. Christian is my kindergartener learning to read this year, and he has taken to them like a duck to water. He has chosen two colors as his favorites: magenta and purple. I can't tell you why he chose them, but each day he picks the one he wants and off we go decoding words together, line by line.
I have noticed that Christian's focus is better with the Reading Rulers. He can hone in on the phonograms we're working on and decode the words more accurately. They've been a good fit.
And then one night I mentioned them to my husband, a self-proclaimed slow reader. He said, "Really? Where are they? I'd love to try them!" I handed him the stack of colors and read the instructions that came with them:
"If you have a pack of mixed colors, test read with all the colors, choose the one you feel most comfortable with, and use it to read. Lay them side by side in turn on a piece of text and then choose the one that is clearest. Keep similar and complimentary colors apart; a good order to test in is: pink, celery, sky, magenta, grass, yellow, aqua, purple, orange, and jade. Don't worry if you seem to like one color one day and change the next day. Varying light conditions make a difference. Howver, after a while you will probably find you settle on one color anyway."
My husband liked the bigger side of the ruler because he felt the ability to see the following lines helped him to read more quickly. Perhaps for advanced readers, this is the advantage of the Reader Rulers.
This is a worthwhile and effective product for struggling readers of all ages, something I'll be using with my own kiddos and enthusiastically recommending to others.
Disclaimer: As a member of the TOS crew, I recieved this product, at no cost to me, in exchange for my honest review. All opinions are mine. More Crossbow Education Reading Rulers reviews here.