I am very happy to bring you a review today of an art resource for preschoolers called, The Way They See It: A Book for Every Parent About the Art Children Make.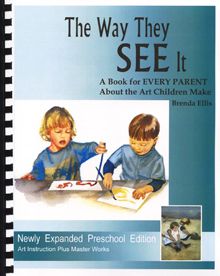 Published by Artistic Pursuits, The Way They See It is newly revised for preschoolers and includes art instruction plus master art works. I am finding that this book is beautifully bridging the gap between my desire to create art with my preschoolers and the knowledge of how to do so.
To begin with, the materials list is simple and realistic, with supplies you can find most anywhere:
Crayola crayons

Mr. Sketch Scented Markers

Prang brand or Crayola watercolors

Finger Paint- homemade recipe included

Play-Doh or homemade recipe included

Copy paper
The Way They See It starts with an excellent and thorough introduction and overview of preschool art. Often we adults don't understand how to approach art with little ones, and I found this section very helpful; I don't have an artistic bone in my body and need a little inspiration.
Beautiful copies of master works of art are included for each study called "Picture Talk", which focuses on the elements in the picture and teaches preschoolers how to observe. The quality of the artwork alone makes the book worth the price, particularly considering it is a non-consumable resource.
There are notes to parents throughout the lessons and projects that really helped me gain a good perspective on what we were trying to accomplish. Here's a sample "Picture Talk" lesson from the book:
Stanton MacDonald-Wright, Abstraction on Spectrum (Organization, 5). c. 1914-17

This artist made marks with beautiful colors. Can you find a circle that is light blue? Can you find a circle that is orange? Can you find a triangle that is green? Can you find a triangle that is purple?
The Picture Talk lesson is then followed by a hands-on project. In this case, it is a finger painting project that encourages a tactile approach to creating art.
And another...
Ammi Phillips, Girl in Red with Her Cat and Dog. c. 1834-36

Look at this picture of a girl with her pets. It was painted by Ammi Phillips, an early American artist. It is called "Girl in Red with Her Cat and Dog". How many ears does the cat have? Can you find its tail? Where is the dog? Do you have pets? What kind of pets do you have? Pets often appear in works of art.
This lesson is followed by a hands-on project using play-dough- can you roll, squeeze, and pinch the dough to form a fish, a cat, a dog, or other pet?
Following the 26 lessons that all include at least one beautiful, full-color copy of a masterpiece, The Way They See It covers essential first skills, such as cutting with scissors, pencil, crayon, and marker useage, gluing and taping, and brushes and paint.
Really? Don't they know how to use markers, and how to glue something down? Well, not necessarily. I have had some excessively renegade preschoolers with interesting ideas of how to use a glue stick and creative grips for scissors. It wouldn't have occurred to me to actually take the time to teach them skills such as applying liquid glue with a Q-Tip.
All in all, The Way They See It: A Book for Every Parent About the Art Children Make is a lovely and excellent addition to a preschool curriculum at home. In fact, it's a book I would purchase as a gift to a new homeschooler, complete with a little stash of the recommended supplies. It is pricey, but if you have a long line of preschoolers ahead of you, plan to teach a preschool co-op, or run a home daycare, it would be well worth the investment.
$47.95
Want to read what other Homeschool Crew members thought of The Way They See It? You can read their reviews here.